Are you taking part in BBC Music Day?
Please email us at BBCMusicDay@bbc.co.uk and info@nationalcareforum.org.uk to let us know your plans. We'd love to hear from you!
BBC Music Day 2019 will kick start its initiative to help bring music to everyone living with dementia by 2020, working with all major organisations in this field.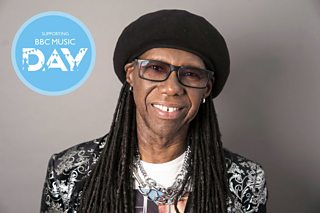 I've witnessed my mother's and my aunt's experience with dementia and I know just how transformational music can be for people with this condition.

Nile Rodgers
Hundreds of events will take place across the UK in a celebration of the power of music to change lives, including the first ever music and dementia festival co-created by people living with dementia and the first NHS Dementia Village opening its doors ahead of its official launch.
More than 100 organisations are involved so far in this unprecedented collaboration including Alzheimer's Society, Age UK, Alzheimer Scotland, Dementia UK, NHS England, Nordoff Robbins, Live Music Now, Playlist For Life, and Utley Foundation.
They'll be working together the week of BBC Music Day to create events and take part in broadcasts celebrating the importance of music in improving the wellbeing of people living with dementia. This initiative will be reflected across BBC Radio, TV and digital.
Supporting the initiative is legendary, multiple Grammy-winning musician, Nile Rodgers. An ambassador for BBC Music Day 2019, Nile has had personal experience with family members affected by dementia.
You can join our ambitious initiative by hosting an event, supporting us on social media, or by simply spreading the word about the power of music to help people with dementia.